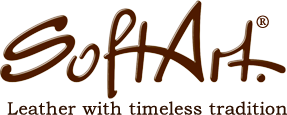 SoftArt
®

- Leather with timeless tradition

Starting back in 1867 the year the leather factory was founded in Murrhardt, we have since evolved, in the course of time, from a craftwork-run business to a meaningful industrial manufacturer of fine upholstered leather supplying a range of international customers. Generations have been working with cattle hide since our year of foundation.

The core skills of SoftArt® range from the know how concerning raw hide, methods of processing, markets and meeting the requirements of international customers, to direct access to first-class raw hides.

We are continuing the long-lived tradition by doing our utmost, now and in the future, to produce leather of highest quality that will fully meet any customer's requirements ranging from the processing industry to consumers.