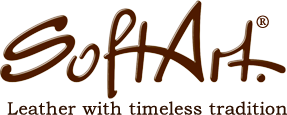 leather for handbags, luggage and valets
For more information, when passing the leather samples:



> Softcalf

> Vacona

> Montana

> Torro

> Scandinavian
> Nature
Softcalf
A soft and natural heavy weight leather with a round and flat milled Grain. This unique leather is usd for exclusive accesoires like handbags and valets.
Vacona
The unexampled natural sheen of this durable pure aniline leather is so brilliant that only unique and fine pieces of furniture can be created from this original leather.
Montana
A thick leather meeting the demands of high standards. Montana provides an elegant and unique appearance.
Torro
A high class heavy weight leather meeting high standards. The concise grain structure shows elegance and liveliness.
Scandinavian
A beautiful leather which has a soft touch with a fine smooth grain, an elegant sauvage effect and a silky sheen The active breathing of this leather supports an excellent seating comfort.
Nature
is natural, pure, elegant and unique.